Choose Rechargeable Batteries
Rabu, 12 Maret 2008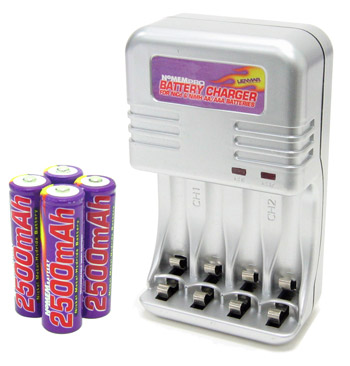 Save money and resources by using widely available rechargeable batteries, many of which can be reused up to 1,000 times.
More than 15 billion batteries are thrown away each year — enough to make a column to the moon and back. That number continues to grow, as we use more and more electronic devices in our lives.
Thanks to a 1996 federal law, batteries no longer contain highly toxic mercury. However, rechargeables are allowed to have less-toxic metals, such as cadmium and lead, so it is imperative (and legally required) that you dispose of them properly. Used rechargeables can be dropped off for recycling at many retailers, or consult Earth911.org for locations. When possible pick lithium-ion or NiMH (nickel metal hydride) rechargeables over NiCd (nickel-cadmium) rechargeable batteries, which contain more toxic metals.
Unfortunately, according to Simon Daniel, CEO of London-based Moixa Energy Ltd., research indicates people typically re-use rechargeable batteries only a paltry six to eight times. Daniel says people tire of (or lose) the bulky, inconvenient outlet chargers.
Reuse is easier with Moixa's innovative new USBCell NiMH batteries ($20 for a two-pack of AAs). To charge them, simply pop the top off the battery, exposing a USB plug, which can be used with any powered USB port on a laptop, desktop or game console. Order on the company's website, or pick up at select Brookstone and REI stores (a wider rollout is expected soon).
diposting oleh RiRi @ 19.42
0 Komentar